microchip公司的CEC1702是密码嵌入控制器,具有高度可配置混合信号先进I/O控制器架构,集成了32位ARM Cortex M4F MCU核,32位ARM v7-M指令集架构,硬件浮点单元(FPU),和紧密连接的用于代码和数据的SRAM,ACPI兼容,工作电压3.3V和1.8V,用于定制物联网(IOT)平台.本文介绍了CEC1702主要特性,基于ARM M4F嵌入控制器I/O框图和PWM控制器框图以及CEC1702 IoT开发板DM990013-BNDL主要特性,电路图和材料清单.

The CEC1702 is a family of embedded controller designs with strong cryptographic support, customized for Internet ofThings (IOT) platforms. The family is a highly-configurable, mixed signal, advanced I/O controller architecture. Thedevice incorporates a 32-bit ARM Cortex M4F Microcontroller core with a closely-coupled SRAM for code and data. Asecure boot-loader is used to download the custom firmware image from the system's shared SPI Flash device, therebyallowing system designers to customize the device's behavior.

The CEC1702 is directly powered by a minimum of two separate suspend supply planes (VBAT and VTR). There arethree voltage supply regions for all GPIO pins. Two regions may be either 3.3V or 1.8V.

The CEC1702 family of devices offer a software development system interface that includes a Trace FIFO Debug portand a JTAG/SWD debug interface.

CEC1702主要特性:

• 3.3V and 1.8V Operation
• ACPI Compliant
• VTR (standby) and VBAT Power Planes
- Low Standby Current in Sleep Mode
• ARM® Cortex®-M4 Processor Core
- 32-Bit ARM v7-M Instruction Set Architecture
- Hardware Floating Point Unit (FPU)
- Single 4GByte Addressing Space (Von NeumannModel)
- Little-Endian Byte Ordering
- Bit-Banding Feature Included
- NVIC Nested Vectored Interrupt Controller
- Up to 240 Individually-Vectored Interrupt SourcesSupported
- 8 Levels of Priority, Individually Assignable By Vector
- Chip-Level Interrupt Aggregator supported, toexpand number of interrupt sources or reducenumber of vectors
- System Tick Timer
- Complete ARM-Standard Debug Support
- JTAG-Based DAP Port, Comprised of SWJ-DP andAHB-AP Debugger Access Functions
- Full DWT Hardware Functionality: 4 DataWatchpoints and Execution Monitoring
- Full FPB Hardware Breakpoint Functionality: 6Execution Breakpoints and 2 Literal (Data)Breakpoints
- Comprehensive ARM-Standard Trace Support
- Full DWT Hardware Trace Functionality forWatchpoint and Performance Monitoring
- Full ITM Hardware Trace Functionality forInstrumented Firmware Support and Profiling
- Full TPIU Functionality for Trace OutputCommunication
- MPU Feature
- 1μS Delay Register
• Internal Memory
- 64k Boot ROM
- Two blocks of SRAM, totaling 480KB
- Each block can be used for either program or data
- 128 Bytes Battery Powered SRAM
• Battery Backed Resources
- Power-Fail Status Register
- 32 KHz Clock Generator
- Week Alarm Timer Interface
- Real Time Clock
- VBAT-Powered Control Interface
- Two Wake-up Input Signals
- Optional Latching of Wake-up Inputs
- VBAT-Backed 128 Byte Memory
• Four I2C Host Controllers
- Allows Master or Dual Slave Operation
- Fully Operational on Standby Power
- DMA-driven I2C Network Layer Hardware
- I2C Datalink Compatibility Mode
- Multi-Master Capable
- Supports Clock Stretching
- Programmable Bus Speed up to 1MHz
- Hardware Bus Access "Fairness" Interface
- SMBus Time-outs Interface
- All Ports Assignable to Any Controller
- All ports 1.8V-capable
• General Purpose Serial Peripheral Interface Controller
- One 4-pin Full Duplex Serial CommunicationInterface
- Flexible Clock Rates
- SPI Burst Capable
• One Quad Serial Peripheral Interface (SPI) Controller
- Master Only SPI Controller
- Mappable to two ports (only 1 port active at atime)
- Dual and Quad I/O Support
- Flexible Clock Rates
- SPI Burst Capable
- SPI Controller Operates with Internal DMAController with CRC Generation
• 13 x 8 Interrupt Capable Multiplexed KeyboardScan Matrix
- Optional Push-Pull Drive for Fast SignalSwitching
• Two Breathing/Blinking LED Interfaces
- Supports three modes of operation:
- Blinking Mode with Programmable Blink Rates
- Breathing LED Output
- 8-bit PWM
- Breathing LED Supports Piecewise-linearBrightness Curves, Symmetric or Asymmetric
- Supports Low Power Operation in Blinkingand Breathing Modes
- Operates on Standby Power
- Operates in Chip ' s System Deepest Sleep State on32kHz standby clock
- Operational in EC Sleep State
- Pin buffers capable of sinking up to 12 mA
• Two Resistor/Capacitor Identification Detection(RC_ID) ports
- Single Pin Interface to External InexpensiveRC Circuit
- Replacement for Multiple GPIO's
- Provides 8 Quantized States on One Pin
• General Purpose I/O Pins
- Up to 65 GPIOs
- Glitch protection on most GPIO pins
- 1 Battery-powered General Purpose Outputs
- All GPIOs can be powered by 1.8V
- Programmable Drive Strength and Slew Rateon all GPIOs
• Programmable 16-bit Counter/Timer Interface
- Four 16-bit Auto-reloading Counter/TimerInstances
- Four Operating Modes per Instance: Timer,
One-shot, Event and Measurement
- 3 External Inputs
- 2 External Outputs
• Hibernation Timer Interface
- Two 32.768 KHz Driven 16-bit Timers
- Programmable Wake-up from 0.5ms to 128 Minutes
- One 32.768 KHz Driven 32-bit RTOS Timer
- Programmable Wake-up from 30μS to 35 Hours
- Auto Reload Option
• System Watch Dog Timer (WDT)
• Input Capture Timer
- 32-bit Free-running timer
- Four 32-bit Capture Registers
- One Compare Timer with Optional TogglingOutput
- Capture Interrupts with Programmable EdgeDetection
- Compare Timer and Counter Overflow Interrupts
• Week Timer
- Power-up Event Output
- Week Alarm Interrupt with 1 Second to 8.5 YearTime-out
- Sub-Week Alarm Interrupt with 0.50 Seconds -72.67 hours time-out
- 1 Second and Sub-second Interrupts
• Real Time Clock (RTC)
- VBAT Powered
- 32KHz Crystal Oscillator
- Time-of-Day and Calendar Registers
- Programmable Alarms
- Supports Leap Year and Daylight Savings Time
• Pulse-Width Modulator Support
- Seven Programmable PWM Outputs
- Multiple Clock Rates
- 16-Bit 'On' and 16-Bit 'Off' Counters
- Optional Inverted Output
• FAN Support
- Two Fan Tachometer Inputs
- Two RPM-Based Fan Speed Controllers
- Each includes one Tach input and one PWM output
- 3% accurate from 500 RPM to 16k RPM
- Automatic Tachometer feedback
- Aging Fan or Invalid Drive Detection
- Spin Up Routine
- Ramp Rate Control
- RPM-based Fan Speed Control Algorithm
• ADC Interface
- 10-bit Conversion in 1s
- 5 Channels
- Integral Non-Linearity of ±1.5 LSB; DifferentialNon-Linearity of ±1.0 LSB
• Two Standard 16C550 UARTs
- Both UARTs with 4-pin Interface
- Programmable Input/output Pin Polarity Inversion
- Programmable Main Power or Standby PowerFunctionality
• Trace FIFO Debug Port (TFDP)
• Integrated Standby Power Reset Generator
- Reset Input Pin
• Clock Generator
- 32.768KHz Clock Source
- Low power 32KHz crystal oscillator
- Optional use of a crystal-free silicon oscillator with ±2%Accuracy
- Optional use of 32.768 KHz input Clock
- Operational on Suspend Power
- Programmable Clock Power Management Controland Distribution
- 48 MHz PLL
• Multi-purpose AES Cryptographic Engine
- Hardware support for ECB, CTR, CBC andOFB AES modes
- Support for 128-bit, 192-bit and 256-bit keylength
- DMA interface to SRAM, shared with Hashengine
• Cryptographic Hash Engine
- Support for SHA-1, SHA-256, SHA-512
- DMA interface to SRAM, shared with AESengine
• Public Key Cryptographic Engine
- Hardware support for RSA and Elliptic Curvepublic key algorithms
- RSA keys length from 1024 to 4096 bits
- ECC Prime Field and Binary Field keys up to640 bits
- Microcoded support for standard public keyalgorithms
• Cryptographic Features
- True Random Number Generator
- 1K bit FIFO
- Monotonic Counter
• Package
- 84 Pin WFBGA RoHS Compliant package


图1.CEC1702框图


图2.基于ARM M4F嵌入控制器I/O框图


图3.PWM控制器框图

CEC1702 IoT开发板DM990013-BNDL

The CEC1x02 Development Board is intended as a development, demonstration, and testing platform for Internet-of-Things applications using the CEC1702, a 32-bit ARM® Cortex®-M4-based microcontroller with additional security peripherals. The board featuresa variety of hardware options (including a power supply, user interface, serialcommunications, and expansion headers) that enable rapid prototyping and development of embedded, secure Internet-of-Things applications. In addition to the nativehardware features provided by the CEC1x02 Development Board, hardware expansionis possible through the use of mikroBUS™ accessory boards.

The CEC1x02 Development Board features a Plug-In-Module (PIM), which has a
CEC1702Q-B2 device without a programmed key so users can create their own private key tostore into the CEC1702 for their end applications.

Easily incorporate security into designs with the CEC1702 IoT Development Kit, a Microsoft certified Azure IoT Starter Kit for fast development. The kit features:

CEC1x02 development board with a Plug-in Module (PIM) that contains the CEC1702 MCU with integrated cryptography accelerators, saving code space and decreasing time to market Two headers compatible with Mikroelektronika's extensive library of click boards™, allowing for flexible design requirementsMikroElektronika Wi-Fi® 7 click board, equipped with Microchip's ATWINC1510-MR210PB IEEE 802.11 b/g/n/ module, optimized for low-power IoT applicationsMikroelektronika THERMO 5 click board, which can measure temperatures across four channels with ranges from 0 to 127 degrees Celsius and an extended range of -64 to 191 degrees Celsius.


图4.CEC1702 IoT开发板DM990013-BNDL外形图


图5.CEC1702 IoT开发板DM990013-BNDL元件布局图

1. USB micro-B connector — Provides power to the board and provides an interface for serial input/output or I2C using the Microchip MCP2221AUSB-to-UART/I2C serial converter.
2. Power Adapter Plug — Provides another way to apply power to the board byexternal power adapter from 6 V to 16 V, such as AC002014 - 9 V Wall MountPower Supply.
3. Connector for Plug-In Module (PIM) — Initially the board is supported with CEC1702PIM.
4. SST26VF016B (on the CEC1702PIM) — Serial Quad I/O (SQI) flash to store the program image for the CEC1702 and provides additional persistent storage for application information.
5. JTAG Debugger/SPI Flash Programming Header (on the CEC1702PIM) —Shared header design for SWD-mode JTAG or external SPI flash connectioncontrolled by VCC_RST pin.
6. eFuse programmability — Ability to evaluate, develop and program all aspects of the CEC1702, including the keys used for authentication.
7. 10 kΩ Potentiometer — Useful as an analog signal source for ADC demonstration or user interface purposes.
8. Analog-to-Digital Converter expansion header — Provides an expansion header for variable-resistance circuit elements, such as a thermistor.
9. Color LED — Full-color PWM-driven LED.
10. Status Indication LED — Output LED for the CEC1702's Blinking/Breathing LED hardware module.
11. 128x64 pixel LCD — EastRising ERC12864 SPI-interface LCD. Useful for displaying user application text/images.
12. JTAG Debugging headers — Provides a standard 20-pin header and a 1x6header for flexibility.
13. I2C Expansion Header
14. 4x4 Keypad Header
15. GPIOs headers — Expansion headers to access all GPIOs of CEC1702.
16. 6x general-purpose pushbuttons
17. 2x mikroBUS™ Interfaces — Useful for attaching a wide array of hardware
expansion boards to extend the functionality of the platform.


图6.CEC1X02开发板电路图


图7.CEC1702PIM开发板电路图
CEC1X02开发板材料清单: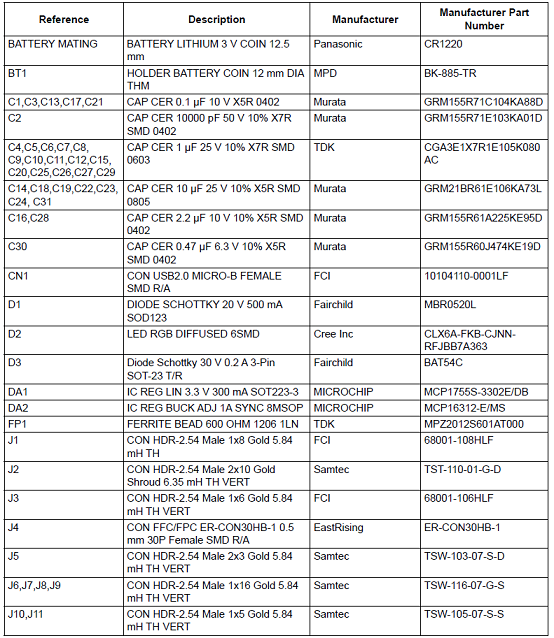 CEC1702PIM开发板材料清单:


CEC1702 Efuse发生器工具

This document gives step by step information on programming the Efuse using the CEC1702 Efuse Generator Tool. Following these steps will ensure that the CEC1702 part is programmed correctly each time without facing any difficulty. The CEC1702 Efuse Generator Tool is responsible for generating private and public key pairs,verifying private-public key pair validity, disabling JTAG and ATE modes and generating the Efuse programming values. The input from the user is GUI based and is simple to use. The output from the tool is a binary file for programming the CEC1702 part on the Clicker board using any JTAG programmer tool. The tool also writes the private and public key in an output file protected with the password set by the user while entering the parameters.


图8.CEC1702 点击板外形图


图9.CEC1702 点击板建立图


图10.CEC1702 点击板电路图(1)


图11.CEC1702 点击板电路图(2)
详情请见:
http://ww1.microchip.com/downloads/en/DeviceDoc/00002207C.pdf
和http://ww1.microchip.com/downloads/en/DeviceDoc/50002598A.pdf
以及http://ww1.microchip.com/downloads/en/DeviceDoc/CEC1x02-Development-Board-Users-Guide-DS50002727A.pdf

00002207C.pdf

50002598A.pdf

CEC1x02-Development-Board-Users-Guide-DS50002727A.pdf
声明:本网站原创内容,如需转载,请注明出处;本网站转载的内容(文章、图片、视频)等资料版权归原网站所有。如我们采用了您不宜公开的文章或图片,未能及时和您确认,避免给双方造成不必要的经济损失,请电邮联系我们,以便迅速采取适当处理措施;欢迎投稿,邮箱:editors@awesomedietplans.net。